Charges All Your Devices At Once

Keep all your devices charged and organized in one place with the XOOWA Trio Foldable Charger. Featuring wireless charging support for all your devices to quickly power your Phone (Up to 15W), SmartWatch (2.5W), and EarBuds (5W) simultaneously, so they are charged and ready whenever you are.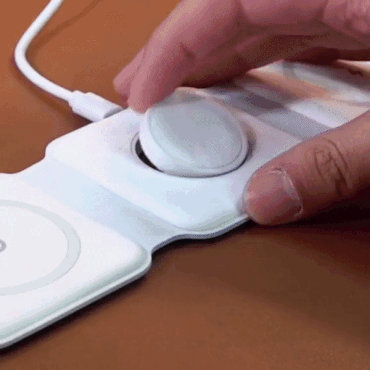 Features built-in charging modules charge your devices 4x faster than your average wired cables. So whether you need a quick boost in between meetings or you're recharging your devices overnight, we've got you covered.
Easy Magnetic Connection
Equipped with an easy-to-use magnetic connection to keep your phone in perfect view and works either in Portrait or Landscape mode – ideal to answer FaceTime calls or reply to messages while charging.
Finally a solution to charge your smartphone, smartwatch and earbuds without the hassle of tangled wires and cables.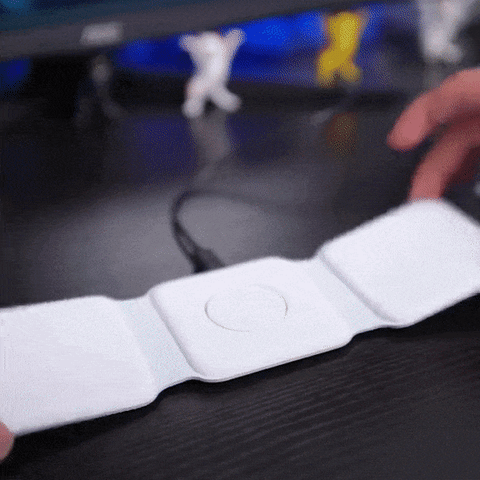 Compact & Portable
Made to take anywhere, is incredibly convenient and portable. Pack it up until it's a compact 1-inch stack you can fit in your pocket, backpack or anywhere you'd keep a wallet. It's a charger you can carry, forget and pull out when you really need it. 
Whether you've got an iPhone, Samsung, AirPods, Apple Watch this trio charger will work for you.
Key Features
• Charges 3 devices at once
• 4x Faster wireless charging speeds
• Compatible with Apple & Samsung
• Doubles as a Magnetic wireless charging stand
• Ultra-portable design
• Compatible with all Qi enabled mobile phones
• Powered by USB-C
Dimensions and Weight
• 74mm x 80mm x 24mm (stacked)
• 247mm x 74mm x 8mm (flat)
• 128 grams
Notes: XOOWA Trio Charger is compatible with all iPhone and Android phones, but the magnetic feature is only for iPhone 12-13 and more advanced. Fast wireless charging requires a Wall Charger or a USB port that supports at least 18W fast charging (sold separately) and a cable that supports fast charging (included).