"It really works on overstressed men's feet! I have been embarrassed so many times over to expose my rough-looking feet and could not find a remedy. I was told about this foot callus remover and decided to give it a try, the results gave me brand new baby-looking feet! I highly recommend giving it a try, you will not be disappointed!!!"
Jessy A.- Verified Customer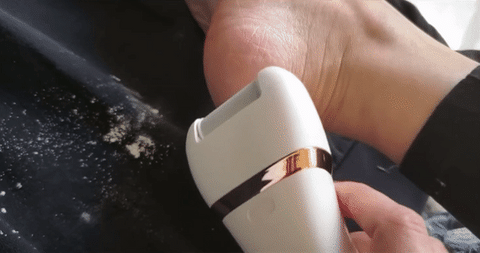 TAKE GOOD CARE OF YOUR FEET
The electric callus remover with diamond crystals is the product you may want to slip in your purse for quick filing outside the house. Its width offers an excellent grip as well, which allows you to run the roller over the affected areas with a steady hand, its unique design prevents the unit from sliding out of your hands. There is no fixed length of time given as to how many minutes it will take to eliminate the rough edges of your feet.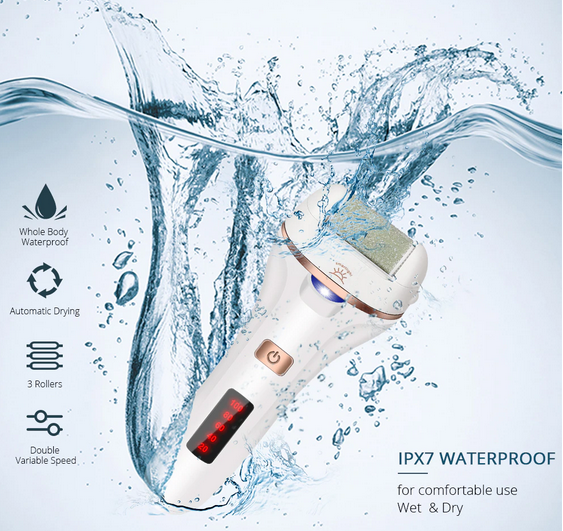 Powerful, Safe & 2 Speeds
Electric Foot Callus Remover has 2 speeds: 1800 RPM/min and 2400 RPM/min. When the pressure of the pedicure tool is too high, it will automatically stop working and protect your skin. 
When you use the foot file at night, its auxiliary light can make you see dead skin clearly.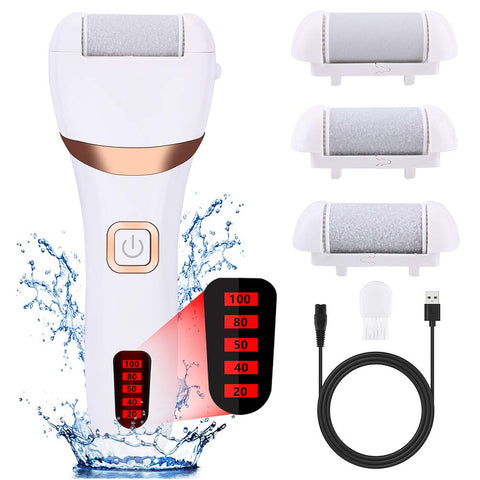 Long-Lasting & Battery Display
A high-quality 1200mAh large capacity lithium battery has an overcharge protection function and 5 levels battery display function. It can help you know how much rest of the power of the battery is and when should be charged.
USB charging time is usually 3.5 hours, it can work about 100-150 minutes continuously.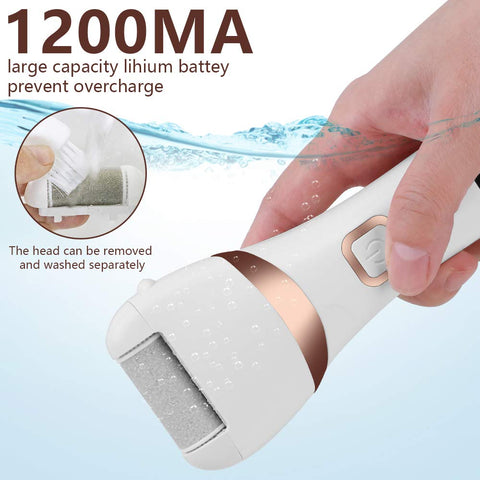 IPX7 Waterproof
The electric foot file has a waterproof design, the whole body can be rinsed under running water. You can wash it and keep it clean after use. It is suitable for wet and dry use.
An electric foot scraper would effectively solve the problem of bacteria growing in the gaps and protects your feet' health.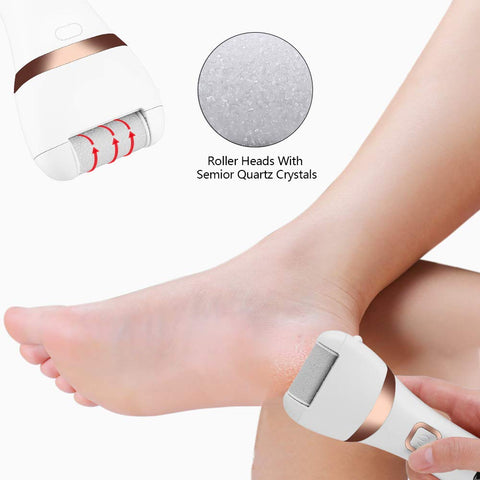 Rough roller head for remover stubborn horny dead skin.
Medium roller head for remover rough dead skin.
You can choose a suitable roller head according to your skin-to-foot care, make your feet' skin restore the delicate and smooth.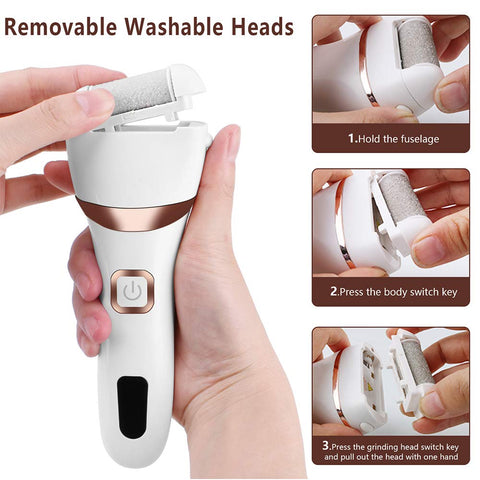 Feature
Ergonomic design, easy-to-grip handle, body with light, easy to use.
Two-gear speed adjustment, adjust according to your own needs, USB charging, large-capacity lithium battery, short charging time.
Strong power, equipped with two kinds of grinding heads, which can effectively remove dead skin and calluses.
The body has its own battery display, and the charging and discharging data are clear at a glance.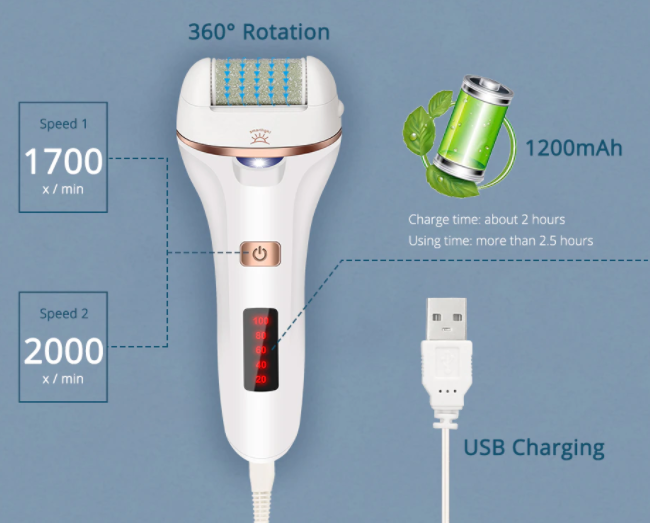 Wash with water for better results. Portable and wireless, it can be used at home and outdoors. 
Steps to perfect pedicure:
Soak your feet in warm water for 10 minutes. 
Then wipe it with a dry cloth.
Turn on the electric callus remover, and then gently slide on the callused feet to achieve the desired effect.
Clean your feet and apply some cream to moisturize your feet and enjoy soft and smooth skin!
SPECIFICATIONS
Voltage: USB DC5V
Power: 5W
Charging time: 3.5 hours
Battery Type: Lithium battery 1200mAh
Waterproof rating: IPX4
PACKAGE
1 x Electric Foot Callus Remover
1 x USB Cable
1 x Manual