WANT TO HAVE FUN WHILE WORKING OUT?
JUST 3-4 TIMES A WEEK FOR 20 MINUTES 👌
  
This new All-in-One workout tool finally makes cardio fun again!
✓ Do it while watching TV or listening to music
✓ Bring it anywhere
✓ Fun and effective
Tone your core, waist, and legs with the Infinity Hoop™ Weighted Smart Hula Hoop!

A FULL-BODY WORKOUT FROM HOME
Infinity Hoop™ 3-4 times a week for a full body workout in just 20 minutes. Simply toss the weight around your hips horizontally and use your body motion to keep the weight in the air.
To keep the hoop in motion, be sure to activate core & leg muscles to help power the movement. Keep your core engaged and add more weight to progress even further! 

We know it may look easy, but it's far more challenging than you think!

HOOP SIZING
REGULAR: (24 links) Up to 42 Inches
PLUS: (28 links) Up to 52 inches 
The Infinity hoop adjusts to all waist sizes from 20 to 52 inches. We include the option for additional links upon Adding To Cart. Remove and add links as desired to get the optimal fitting.
Each Link = 2 inches

The Upgraded Infinity Hoop features our patent pending massage tips, which allows for a more comfortable experience while hooping.
Unlimited Hula Hoop  VS Regular Hoops

 30 Day Money Back Guarantee
We believe in our Infinity Hoop results so much that if you use the hoop for 30 days & don't remove ATLEAST ONE link, we will issue you a 100% refund with no return obligation.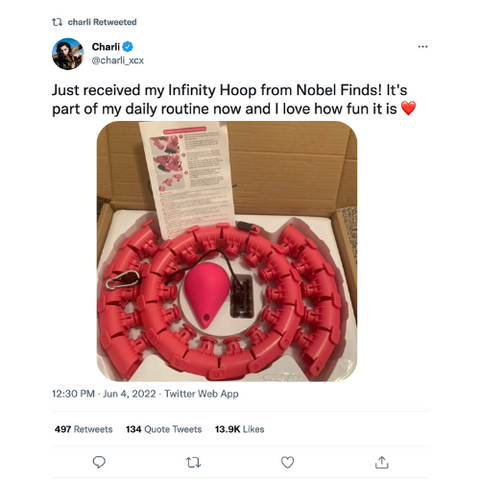 The Infinity Hoop™ has earned OVER 150 MILLION views on TikTok and we have sold out 5 times in the past 9 months alone. Become one of our success stories by buying today and documenting your journey!