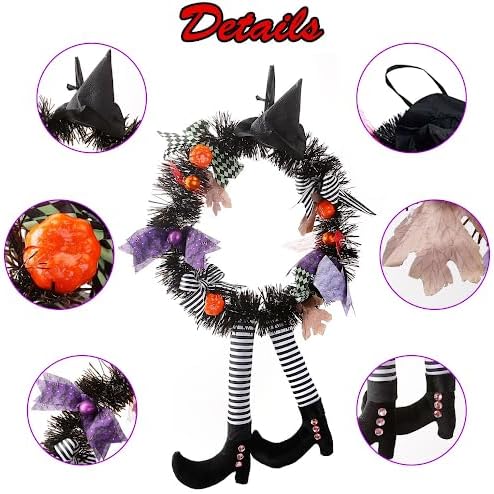 Elevate your Halloween decor with our captivating Halloween Witch Wreath Pumpkin Door Decorations. This uniquely designed wreath is a symphony of vibrant colors and enchanting elements that come together to create a bewitching spectacle. Adorned with orange pumpkins, purple and orange berries, a white & black stripe bow-knot, a green & black brick bow-knot, brown maple leaves, and the whimsical addition of a witch hat and witch legs, this wreath is a spellbinding masterpiece that will capture the attention of all your friends and family.
Features:
Uniquely Enchanting Design: Our witch wreath stands as a testament to creativity. Orange pumpkins, purple and orange berries, and a blend of bows and knots in striking black and white adorn its composition, while brown maple leaves and bewitching accents like the witch hat and legs imbue it with a sense of Halloween magic.

Invoking Halloween Ambiance: With a witch hat perched atop and two dangling witch legs below, this wreath embodies the essence of Halloween. It transforms your front door into a welcoming portal that exudes a strong Halloween aura, inviting all guests to embrace the spirit of the season.

Lifelike and Captivating: Measuring 13.78x23.62 inches, our wreath is a captivating sight to behold. Its lifelike and vivid design captures the essence of fall and Halloween, making it an interesting and eye-catching decoration that fills out any front door with enchanting allure.

Versatile Decor Options: This witch wreath is a versatile addition to your Halloween decor arsenal. Hang it on mantels, doors, front porches, walls, windows, or even Halloween trees—the possibilities are endless. Wherever it finds its place, it instantly becomes a central attraction that draws the gaze of all who encounter it.

Thoughtful Gift Choice: Sharing the magic of Halloween is made easy with our special-design wreath. Gift it to family and friends, allowing them to infuse their homes and Halloween parties with a dash of captivating charm that radiates the essence of the season.
Package Includes:
1* Halloween Witch Wreath
Celebrate the allure of Halloween with our Halloween Witch Wreath Pumpkin Door Decorations. Crafted with an exquisite arrangement of elements that evoke the enchantment of the season, this wreath transforms any space into a mesmerizing haven of Halloween charm. Whether as a welcoming presence on your front door or adorning various spaces indoors, this unique decoration is an irresistible invitation to immerse yourself in the magic of Halloween.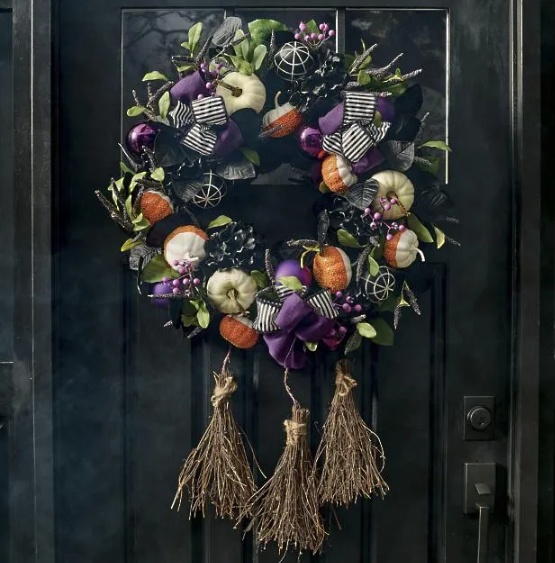 Playful, designer Halloween wreath
Witch-themed with vibrant metallics
Mix of ornaments, pumpkins, ribbon
Mini, real-twig broomstick accents
Indoor/covered outdoor versatility
Our Bewitched Broomstick Wreath is a little witchy and bursting with enchanting elements, from bright Halloween ornaments and ribbons to circled faux botanicals. Completed with three wickedly cute, real-twig broomsticks that dangle and move slightly in the breeze, this designer Halloween wreath is sure to conjure the biggest smiles of the season.
Shaping may be required to achieve your most full and lifelike look
Best-quality materials & craftsmanship preserve look for years of enjoyment
Shatterproof ornaments, fabric ribbon, real-twig broomsticks: permanently attached
Built on sturdy grapevine base; loop to hang
Long-lasting plastic/polyester/foam/twig/wire construction
Bewitched Broomstick Wreath: 26" dia. x 9-1/2"D, 3 lbs.
Top-to-bottom: 38" (including dangling broomsticks).