We've come up with a way to spray champagne:
That makes it even more fun and with less mess. The Champagne Bottle Squirt Gun attaches to any champagne bottle, turning it into a long-lasting champers cannon!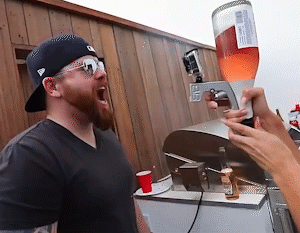 The Champagne Bottle Squirt Gun:
Can be used one-handed, it's comfy to hold, as well as being very controllable and efficient. It even works as a bottle stopper when you're not using it, preserving your champagne to be enjoyed later on.
Durable high-quality aluminum and brass construction.
Throttling trigger for controlled spray up close or long distance.
Contoured finger grips for comfortable single-handed operation.
Doubles as a bottle stopper, keeping champagne fresh and bubbly.
Adjustable system fits all bottle types for instant fun.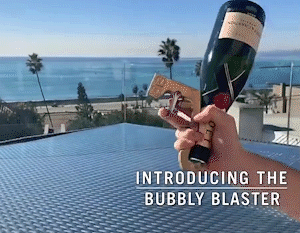 Note:
Our champagne gun is made of high-quality aluminum, not the plastic material used in other stores!
The caliber of the second-generation champagne guns we sell is adjustable and suitable for various wine bottles. The old models sold in other stores do not have adjustable calibers. We have stopped producing them and eliminated the old models.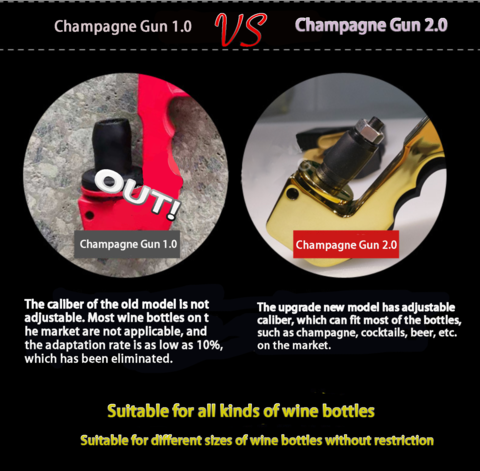 Features:
Spray gun: The Bubbly Champagne Gun Compatible with any 350mL-750mL champagne bottle, the bubble ejector connects to the bottle and turns it into a spray gun.
Easy to use: This corkscrew is perfect for daily use, you can remove the wine corks in a few seconds. If you want to clean the wine opener, just use a kitchen towel to wipe it clean, that's that simple.
High quality: It is efficient and easy to control. When not in use, it can also be used as a cork to keep your champagne fresh for a longer time.
Sophisticated design: High-quality multi-function tool wineware, easy to hold, stylish and compact design. It can be easily put into your pocket, picnic basket or kitchen drawer at home.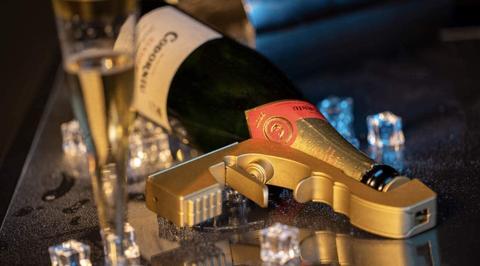 Specifications:
Material: Durable high-quality aluminum and brass construction.
Size: 5.9*4.3*0.9 inch.