OUR EXFOLIATING GLOVE VS ALL LOOFAH, CHEMICAL & OTHER EXFOLIATERS
【Remove Dead Skin Visibly】Our body scrub exfoliating mitts provide deep exfoliation to visibly remove dead skin. Enjoy the benefits of a Korean exfoliating spa treatment at home.

【Fresh Natural Skin】 Our exfoliating mitts reveal your fresh natural skin. When you use our exfoliating mitts one times a week, your skin will be softer and smoother. Your skin of body, arms, and legs will look more radiant and smoother than ever before.

【More Effective】Loofahs and chemical exfoliants are not as good at removing dead skin as our Korean exfoliating mitts. Our body scrub mitts are rough enough to exfoliate deeply, while soft enough to smooth and buff.

【Revive Healthy and Soft Skin】Use our Korean body scrub bath mitts to fight your itchy, bumpy, dry skin caused by keratosis pilaris. Your skin of body, arms, and legs will look radiant and healthier than ever before.

【Self-Tan Prep/Remover】 The 100% unique viscose rayon material of our exfoliating mitts makes it perfect to buff out your self-tanner. You can also use it to do skin prep before the process.
WHY BUY OUR EXFOLIATING GLOVE?

HOW TO USE OUR EXFOLIATING GLOVE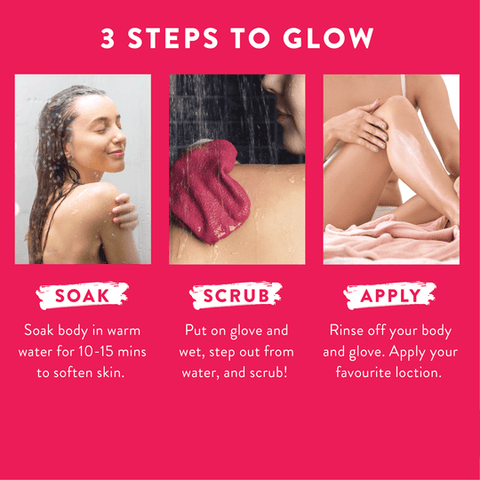 WHAT'S IN THE BOX?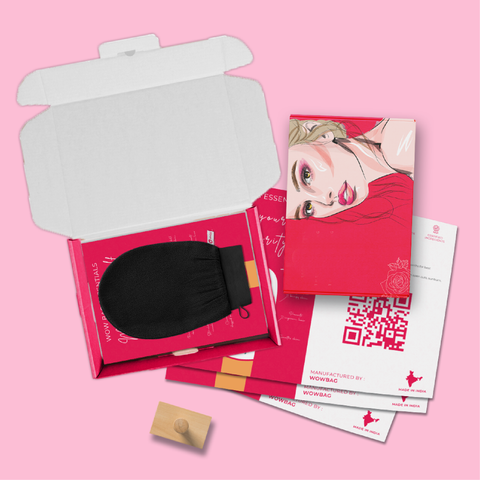 Q&A
Q: Why it dose't work and do not remove dead skin?
A: Before Scrubbing, soften your skin is very important. You can take a shower or bathing for 15 minutes in warm water. Not soft enough will be less effect. Also No shower gel, soap or cleansers on your body and glove during shower or scrubbing, or will hardly remove the dead skin. The cleanser only use after scrubbing to clean the dirt. Not every time the dead skin rolling off, if your skin is soft and perfect it is less dead skin. Continue to use will come with remarkable results.
Q: It is too rough and painful?
A: This glove is for exfoliation so will be little rough. When using it, you can slowly increase the force until you comfortably get that deep exfoliation. Be especially careful with sensitive skin or damage skin. Use for more times you will get skilled.
Q: Why it look so thin, will it be durable?
Although it looks thin, it will shrink and thicken when it gets wet and elastic. This glove is designed with reinforced edges and is very durable.
Q: Why there is a smell on the glove?
A: This glove is made by rayon and mostly is no smell. But some time the package cardboard will make it have the smell. Don't worry, Just clean it with soap and dry it, the smell will be gone.